Later in 2023 will mark five years since Dunkin' Donuts revealed a new name, logo, and marketing campaign aimed at modernizing the brand. The changes received mixed reactions. After all, this is an iconic brand that's been around since the 1950s.
Five years on, though, it's clear that the rebrand was a success. Let's take a look at what the Dunkin' rebrand got right and how other businesses can learn from its example.
Quick History of Dunkin' Donuts Chain
Dunkin' Donuts is a global quick-service coffee and baked goods chain founded in Quincy, Massachusetts in 1948. The company was started by Bill Rosenberg, who opened his first shop under the name Open Kettle. 
After discussions with company executives, Rosenberg changed the name to Dunkin' Donuts in 1950. The company now had a clearer core offering, after seeing that coffee and donuts were its best-selling items. 
Dunkin' Donuts expanded rapidly, opening its first franchise location in 1955. Today, Dunkin' has over 11,000 locations worldwide, making it one of the largest coffee chains in the world. The company is known for its wide range of coffee and tea options, as well as its variety of baked goods, including donuts, bagels, and sandwiches.
With such a rich history and a large franchise footprint, why mess around with rebranding?
The Competitive Landscape
Dunkin' Donuts had its fair share of competition from other coffee brands before 2018. At the time, its main competitors included Starbucks and Tim Hortons. Starbucks was dominating the coffee market with high-end drinks and snacks. It was a challenge for Dunkin' to keep up with Starbucks and its ever-changing menu.
While Dunkin' coffee and other products were less expensive than those of Starbucks, Tim Hortons was an affordable alternative to both Starbucks and Dunkin'. The Canadian chain has been popular throughout North America, offering a wide selection of doughnuts and pastries at a lower cost. Add in McDonald's stepping up its coffee game, and Dunkin' Donuts was facing increasingly popular competitor chains.

Updated Menu Aims at a New Audience
To stay competitive, Dunkin' Donuts knew it had to find new ways to stand out and attract new customers. This meant updating its image to something more modern. It also meant figuring out how to tweak its core offerings to better appeal to younger customers.
A nearly 70-year-old brand speaking directly to a younger target customer base wouldn't happen without making bold moves. Fortunately, that didn't mean having to throw out all of the visual branding Dunkin' Donuts had built over decades.
Its signature pink and orange colors still looked modern in a time of vibrant palette popularity. Bright colors, bold fonts, vivid imagery, and clever messaging resonated with customers of all ages.

One big change came in the menu. The company saw that millennials were more health-conscious than earlier generations, so the brand also updated its product offerings to include healthier options like oatmeal bowls and fruit smoothies. They also added vegan and gluten-free items.
In the summer of 2019, Dunkin' took its health focus even further, partnering with Beyond Meat to offer a meatless sausage breakfast sandwich in Manhattan. This was the first time a U.S. restaurant chain offered Beyond Sausage, and the partnership had an immediate, positive stock impact on both companies.
This shift of focus from traditional flavors to healthy choices is allowing them to remain competitive in the ever-growing fast-food industry while keeping their loyal fan base just as satisfied. If you just want donuts and a "coffee-flavored coffee" as Dennis Leary once joked, you can still get it. But if your tastes are a little more adventurous, you have options.
Of course, focusing on coffee over food made more economic sense as well. Beverages are less labor-intensive to make than food, so they're more profitable. Also, most people don't eat donuts every day whereas drinking coffee is part of many Americans' morning rituals. Adding higher customer frequency with higher profit margin items adds up to a smart business decision for Dunkin'.
New Name for a New Game
The biggest change, however, focused on the company's name. Dropping the "Donuts," the brand was now simply Dunkin'. While they haven't stopped selling pastries, the name change took the emphasis off the unhealthy treat, allowing the brand to focus more on coffee and other beverages such as iced tea, cold brew, matcha lattes, and drinks with oat milk.



The company updated its logo to reflect the name change. The new logo maintained the brand colors and chunky typeface. But shortening the name meant the new logo would be more flexible. For example, depending on the size and shape of the cup, the logo can be shortened to "DNKN'" to allow it to maintain its boldness.
Looking to Rebrand? Take These Lessons from Dunkin'.
The first major takeaway from Dunkin's rebrand is that the change took into account brand heritage. Changing from Open Kettle to Dunkin' Donuts was no big deal since the company was still new and had little brand equity.
But by 2018, it had amassed decades worth of brand equity throughout the world, not something to be discarded lightly. Launching a completely new name and look for an established brand is sometimes necessary but can also fall flat, so businesses need to consider it carefully.
Shifting to the shorter name wasn't too drastic a change since lots of people already did that on their own. Even Dunkin' itself had used the one-word moniker as a nickname in past campaigns such as in 2006 when marketing focused more heavily on coffee options with the slogan "America Runs on Dunkin'." Rather than force an entirely new name on consumers, Dunkin' was just listening to what consumers were already saying. This helped create a smooth transition.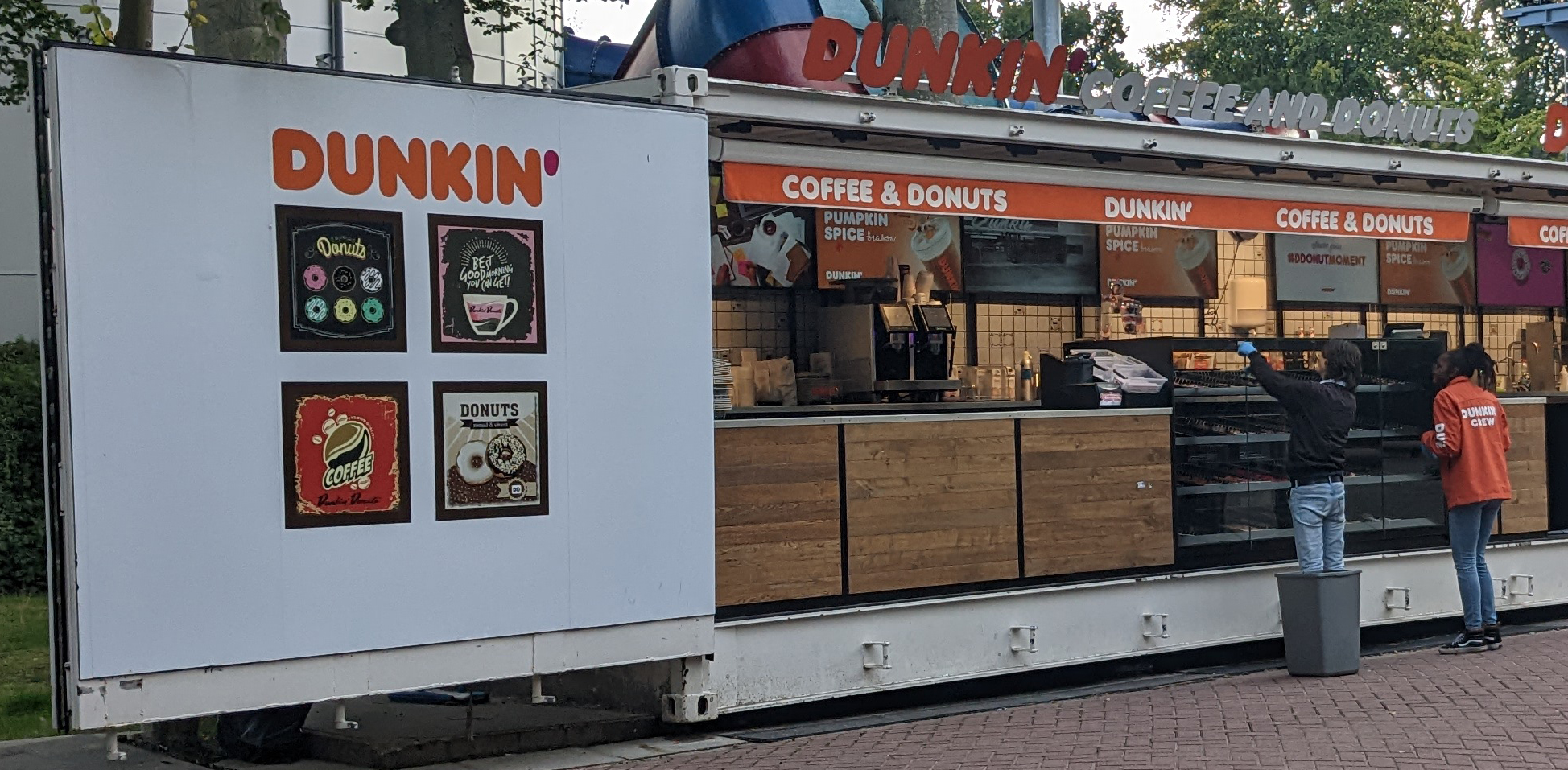 Finally, Dunkin's rebrand put customers first. They looked at the competitive landscape and saw that the general public craved variety in beverages for getting their caffeine fix on the go and was less interested in regularly eating fried, sugary treats for breakfast.
Wrap-Up
Rebranding is always a risk, and for larger brands, it's even riskier and costlier. But by listening to customers, focusing on long-term trends regarding their tastes, and carefully considering your brand equity, brands can stand to fare well in the rebranding game as Dunkin' has done.
Is there another brand you'd like to see a Rebrand Roundup on? Let us know.